Most of us have settled into a new normal of remote work at home but that does not mean your travel life should take a pause. Mountain towns are up and running, the weather is cooling down and the aspens are beginning to change. Now is a great time to take an extended trip while still getting your work done remotely and safely distancing from others.
Small towns have adapted to the pandemic by offering delivery services, increased outdoor seating and reducing capacity at popular spots. Hotels are always an option but to really be able to setup a remote office, renting a home would be the best option. Rentalz and Deluxuri are great sources to find the mountain dream home to make yours for the week.
Grocery stores are open but to help keep up with social distancing it is best to have them deliver right to you. In Big Sky, you won't find any traditional large grocery chains but these two local shops are available for delivery or curbside pickup.
When you do need to get away from the "office" for some food try these restaurants with great outdoor seating options.
Horn and Cantle - Get a table on their lawn and eat some of the best food found in Big Sky.
Riverhouse BBQ - Located on the Gallatin River, Riverhouse offers incredible BBQ food with the views to pair.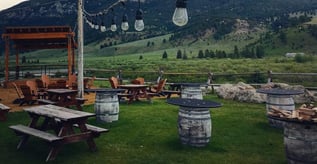 Bunker Deck and Grill - Whether you head out for a round of golf or just some lunch, the Bunker Grill has some great food and a perfect deck to enjoy the sunshine.
When the weekend comes, it's time to have some fun. Whether you are alone or with the family, these activities will get you outside while still being able to distance from groups.
Get a round of golf in at The Big Sky Golf Course.
Land the fish of a lifetime on rivers like the Gallatin or the Yellowstone with

Wild Trout Outfitters

.
Mountain Biking - Big Sky is home to a full array of biking trails from advanced trails on the resort to the beginner friendly Buck Ridge trail.
Spend the day at Lake Levinsky. Rent a SUP, Kayak or Canoe and take a cruise.